AWS

Migration Services

Benefit from scalability, elasticity and efficiency of the cloud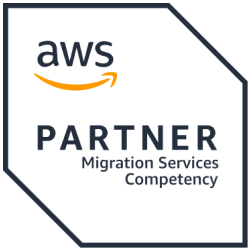 DataArt: Your Proven End-to-End
AWS Cloud

Transformation Partner
Migrate your data and applications to AWS to take advantage of the best-in-class, purpose-built cloud technologies.
Cloud migration, from initial assessment and design to continuous optimization and implementation of new features, is a complex transformation that requires deep expertise. At DataArt, we specialize in seamless AWS account migration, ensuring a secure and efficient transition to the cloud. Our experienced team follows industry-leading AWS cloud migration best practices, carefully crafting a tailored strategy that maximizes the benefits of the cloud for your business. By working with DataArt, you can de-risk your cloud journey and accelerate time-to-value.
Landing Zone
Leverage AWS Landing Zone to provision a secure multi-account AWS environment based on proven best practices and capable of supporting your use cases and workloads.
Migrations
Use the highest standard solutions without compromising flexibility and customization.
Core components:
Resource Management
IAM
Networking
Compute configuration
Observability
Security
CI/CD & DevOps toolset
Optimization
Ensure that your evolving cloud solutions remain aligned to industry-proven best practices.
Focus areas:
Operational excellence
Security
Reliability
Performance Efficiency
Cost Optimization
Sustainability
Landing Zone
Set up a secure, multi-account AWS environment based on proven best practices.
Migrations
Determine the optimal approach for your use case.
Rehosting
Lift & Shift your current workloads to the AWS cloud with minimal-to-no change. Once in the cloud, you have the freedom to leverage native AWS services and capabilities to maximize the benefits.
Replatforming
While keeping the overall architecture unchanged, you can achieve a certain level of optimization by leveraging specific cloud-native services.
Refactoring
Re-architecting your applications (e.g. decomposing monolithic systems into microservices) allows you to fully leverage cloud-native technologies (e.g. managed services, serverless, etc.) to achieve agility, performance, cost optimization, and other important objectives.
Hybrid
For complex IT estates (especially ones where on-premise infrastructure coexists with the cloud), a mix of migration strategies may be appropriate, depending on the characteristics of particular workloads.
Optimization
Optimization in the cloud in as ongoing process that is never truly completed. To ensure that you are always utilizing best-of-breed technologies and proven practices in your solutions, learn more about the Well-Architected Review.
AWS Cloud Migration Services
Migration Hub
Application Migration Service
Application Discovery Service
Storage Gateaway
Datasync
VM Import/Export
Image Builder
Service Catalog
DataBase Migration Service
Schema Conversion Tool
150+
AWS Certified Engineers and Architects
13+
Years building on AWS
150+
Successful projects delivered
Client Success Stories: Real Projects Powered by AWS Cloud Migration Best Practices
DataArt had worked on a number of other technology projects for Trader Interactive in the past. As an AWS Advanced Consulting partner with a strong track record in cloud transformations, the customer felt that DataArt was the right cloud expert to deliver this challenging migration.
DataArt was invited to participate in IDeaS' migration initiative from the beginning. Leveraging the existing AWS governance provided by SAS, IDeaS were able to focus exclusively on migrating the workloads.
Thank you for contacting us!
We will be in touch shortly to continue the conversation.